 
Minelab Pro-Swing 45 Harness
Designed for ultimate convenience and functionality.
Minelab's innovative W8 distribution system and specialist features allow you to spend more time in the field, detecting with ease.
Advantages:
8+8 Versatility

Custom fit your harness through 8 adjustment points and attach other detecting equipment in 8 separate places.

Quick Release R-clip

 Easily switch between detecting and digging at the flick of a clip. Clip on to engage W8 technology and clip off for fuss free digging.

Left & Right Capability

Suitable for both left and right handed users with a simple click in J-strut. Follow the easy to assemble instructions for your preference.

Padded Back Cushion

 Ultimate comfort and improved ventilation from the extra wide strap and additional padding.

Suits Any Detector

 Universal S-cuff attachable to any detector - one size fits all. Simple velcro design allows instant portability.

Simple Bungy Adjustment

One handed operation to quickly adjust detector distance. Ensure correct detecting posture for increased comfort in the field.
Weightless Detecting!
Increase your detecting time with the PRO-SWING 45 featuring Minelab's innovative W8 distribution system.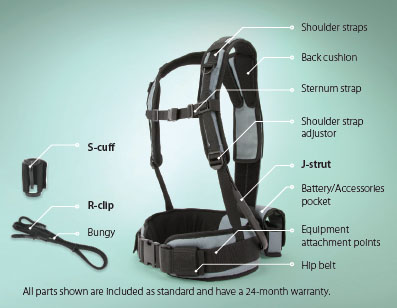 W8 Technology: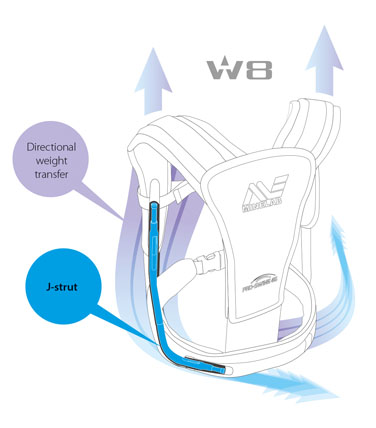 The ergonomic harness design evenly distributes weight from your shoulders, via the J-strut, making your detecting swing lighter.
Images and graphics on this page are for illustration purposes only. Detector and accessories are not included. Please refer to the product manual for detailed operational guidance. Minelab®, PRO-SWING 45®, W8™, J-strut™, R-clip™, S-cuff™ are trademarks of Minelab Electronics Pty. Ltd.
Download the brochure
Download the manual
7 other products in the same category:
How to Find Lost Treasure
72 pages, 3.5″ x 5″ Soft cover
Price
Black polyester with Velcro wrap-around feature: embroidered ACE logos. Clear window for easy viewing of detector control panel.
Our ACE cover-up is easily installed to protect your metal detector from weather and dirt.
Price
Portable pocket scale perfect for weighing your jewellery or nugget finds.
Price
The Detect-Ed Alloy Arm Cuff is a high-quality CNC cut aluminum part, with smooth edges all round. It is designed primarily to replace the fragile plastic arm cuffs found on many metal detectors.
Price
Rubber Teardrop Washer upgrades for the Minelab Equinox 600 and Equinox 800.
Price
Minelab replacement armrest kit for Equinox series metal detectors.
Price
Fits Excalibur series metal detectors (except the original Excalibur).
Price