 
Minelab Gold Monster 1000
Universal Gold Detector

The GOLD MONSTER 1000 turns beginners into experts with fully automatic operation in an easy-to-use, high performance detector.
he GOLD MONSTER 1000 features fully automatic operation and comes with a choice of coils, battery options and shaft configurations. If you're looking for super sensitive gold performance at a great price, then this is the detector you've been waiting for!
---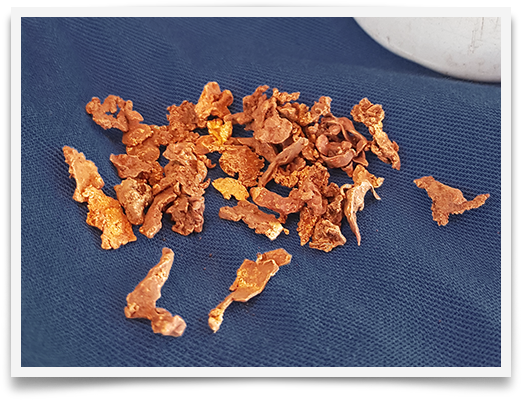 "I found my first nugget within an hour"
"I found my first nugget within an hour; funnily enough it was in a detector scrape from previous excursions. All up I found many pieces of gold, the deepest being 3 inches in variable hot ground."

   Prospector, Australia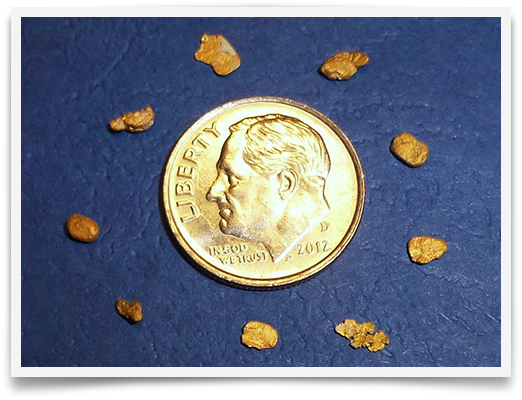 "I was able to find nine small nuggets (flakes) so easily that it was a bit surprising!" 
"I was able to find nine small nuggets (flakes) so easily that it was a bit surprising! Total weight of all nine is 7.8 grains. None were deep, maybe 3–4 cm at most. Just enough however to be just out of reach of the SDC and too small for the GPZ."


 Field Tester, NV, USA
Fully automatic operation 
Extra sensitive 45 kHz VLF performance 
Highly adaptable 
2 search coils included 
Easy quick start 
---
Easy-to-Use Controls

 Gold Chance Indicator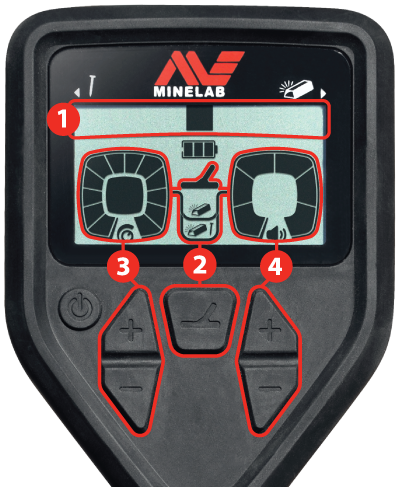 High Gold Chance            

             
          Low Gold Chance        

 Detect Modes

Gold (Iron Reject)                  

            
         Deep All-Metal  

 Sensitivity Options
               

Manual sensitivity, and two
auto options; Auto, and Auto+.      

 Adjustable Volume
                 

Adjust to suit your hearing, with 6
volume levels.      
---
Highly Adaptable
     
Wide ground coverage 


Confined space detecting           


Universal shaft adaptability          


Waterproof coil (to 1m/3')/ Rain proof control box           
---
GOLD MONSTER 1000 outperforms all other single frequency VLF gold detectors!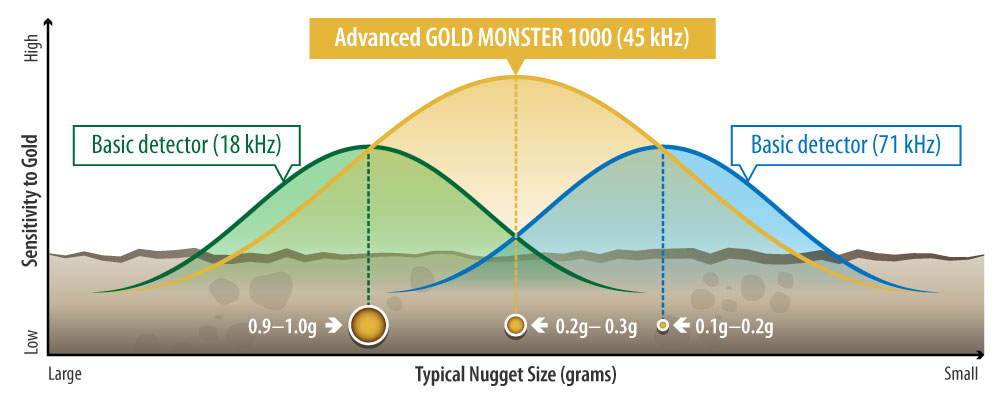 *Detector sensitivity comparisons are representative only. Actual performance will depend upon nugget size, detector settings and ground conditions.
Up until now, there has always been a compromise between frequency and sensitivity when optimising detector performance, because lower frequencies are more sensitive to larger gold nuggets and higher frequencies are more sensitive to smaller gold nuggets.
When comparing detectors, the three curves in the diagram represent each detector's ability to find small gold nuggets of a certain size, at a maximum possible depth. Most detectors will find a very large nugget just beneath the surface, however a detector's sensitivity to gold determines how many smaller nuggets will ultimately be recovered in difficult (noisy) ground at greater depths.
An 18 kHz detector will normally have a depth advantage on nuggets ≥ 1.0g over a basic mid-frequency detector, and a 71 kHz detector will have a depth advantage on nuggets ≤ 0.1g. The advanced GOLD MONSTER 1000 uses an intermediate 45 kHz frequency AND a high speed 24-bit signal processor. This primary combination greatly boosts sensitivity to gold beyond that of other single frequency VLF detectors over a wide range of nugget sizes, without introducing excess noise and false signals.
The GOLD MONSTER 1000 also has improved ferrous/non-ferrous discrimination and copes better with conductive (salty) soils than higher frequency detectors, making it the perfect choice to maximise your gold recovery!
Automatic noise cancel • Digital electronics • Auto ground balance  • Faster processor • Automatic sensitivity
Minelab Gold Monster 1000 Metal Detector Specifications
| | |
| --- | --- |
| Application | Gold Prospecting |
| Technology | Ultra-wide dynamic range 45kHz VLF |
| Detect Modes | Gold (Iron reject), Deep All-Metal |
| Discrimination | Gold Chance Indicator (high/low) |
| Ground Balance | Automatic (Easy-Trak) |
| Noise Cancel | Automatic (On start-up) |
| Sensitivity Adjust | Manual (1-10), Auto (11), Auto+(12) |
| Volume Adjust | Manual 1-6 |
| Visual Display | Monochrome LCD |
| Detector Length | 1382mm-944mm |
| Detector Weight with 10" x 6" coil)  | 1.33kg (excluding battery) |
| Audio Output | Internal speaker or headphones 3.5mm |
| Coils (standard) | GM 10 (10" x 6" Double-D), GM 05 (5" Double-D) |
| Waterproof/Splashproof | Coils waterproof to 1m, Control Box rain/splash-proof |
| Battery Options | Li-ion (included), 8 x AA Batteries (not included) |
| Warranty | 2 years on control & coil |
16 other products in the same category:
Nokta Makro Anfibio Multi Metal Detector with 11" Waterproof DD Search Coil & 2.4 GHz Wireless Headphones - Green Edition, AC Charger, USB Cable & Coil Cover.
PROMOTION: Buy the Nokta Anfibio and get a FREE Nokta 2 in 1 PulseDive, a FREE Nokta cap and a FREE Nokta Standard Digger included! While stocks last (Value over R3700)!
Price
ATX Basic packages  include:
Garrett ATX with 10"x12" DD open searchcoil 
Garrett MS-2 Headphones (waterproof headphones sold separately)
10" x 12" Open coil cover
Garrett Detector Sling
Battery charger
AA alkaline and rechargeable batteries
Soft storage/travel case
DVD and Manual
Price
Extreme Underwater Performance

Minelab's multi-frequency BBS technology, housed in a rugged platform, makes the Excalibur II the best deep diving underwater treasure detector available.
Price
VANQUISH 440: built for the detectorist looking to step up their game. Armed with Multi-IQ technology, waterproof V10 coil, and audio control, the 440 also features pinpoint mode. Perfect for those who demand precision. As simple as it is powerful, the VANQUISH 440's compact and lightweight construction delivers results — no matter where the hunt takes you.
Price
Nokta Makro Multi Kruzer Metal Detector with 11x7" Waterproof DD Search Coil & 2.4 GHz Green Edition Wireless Headphones.
Price
Step up to the power, performance and ultimate technology of the GO-FIND 66. Go wild, find adventure like a pro.
Superior Performance
Advanced technology and innovative features for performance to the MAX.
Compact & No Assembly
It's easy. There's nothing to assemble and no loose parts that can get lost.
Price
The king of ACEs, the ACE 400i includes advanced features like Iron Audio, Digital Target ID, and Frequency Adjust to help you dig more treasure and less trash.
Price
Nokta Makro AU Gold Finder Metal Detector with 10x5.5" and 5" Waterproof DD Search Coils, Headphones, Coil Covers and a Hip Mount Belt.
Price
With innovative NEW multi-frequency technology, the EQUINOX Series redefines all-purpose detecting for the serious enthusiast. Equally adaptable for all target types and ground conditions, just set your detecting location and go!
Price
GTI™ 2500 Pro Package
Garrett GTI 2500 Detector
9.5″ PROformance™ Imaging Searchcoil
GTI 2500 DVD and Manual
PLUS 5 Accessories

Garrett Exclusive Graphic Target Imaging™ (GTI) shows actual SIZE and DEPTH of target. This allows you to spend less time digging trash and more time digging treasure.
Price
Includes:
8" PROformance™ submersible searchcoil
Submersible headphones
Belt pouch
Instructional DVD
A favorite detector for treasure divers around the world because of its ability to ignore salt water, the Sea Hunter's electronic housing can be mounted on the hip or above, below or under the cuff in either short or long configuration.
Price
All Terrain Gold Detecting

The SDC 2300 is a compact high performance mid-range gold detector perfect for chasing down elusive sub-gram nuggets on land & underwater
Price
This all-terrain metal detector offers new and exclusive Garrett technology that makes it ideal for hunting coins, relics, caches, jewelry, and even gold nuggets. Select from either Standard or Professional search modes with enhanced audio features.
Highly Recommended – Coin and Jewelry Hunting, Relic Hunting, Cache Hunting, Prospecting, Ghost Town Hunting, Competition Events, Fresh Water Hunting
Price
AT Gold includes 18kHz frequency for enhanced detection of small gold nuggets, jewelry, coins and relics!


Deep-seeking True All Metal Mode Performance for All Terrain Prospecting!
Includes:
5"x8" (14x20cm) PROformance™ DD submersible searchcoil (as shown)
Garrett MS-2 headphones (waterproof headphones sold separately)
Price
Search deeper and find the treasure other people miss with the GO-FIND 44.
Superior Performance
Advanced technology and innovative features for performance to the MAX.
Compact & No Assembly
It's easy. There's nothing to assemble and no loose parts that can get lost.
Ultra Lightweight
At only 2.3 lbs (1.06 kg), it's the lightest high-performance detector available.
Price